Careers at Helion B2B
Join a fast-growing B2B agency
We're always looking for talent within strategic consultancy, sales & marketing automation as well as content & performance marketing. See our open positions to find a match.
Who is Helion B2B?
Helion B2B is a young, energetic B2B marketing agency founded in Copenhagen in 2021. We help B2B companies with strategic lead generation and engage with their business as if it was our own. We are a group of curious, business-minded, data-driven humans who believe in an inbound approach to marketing and sales efforts.
"
I love the versatility. One day I'll be completely focused on something nerdy like an ecommerce industry report, and the next, I'll be editing a short marketing video. I learn something new every day and get to work with probably the best team out there.
Anna, Content Creator
"
I have to admit that I was a bit apprehensive about returning to agency work while having small children. However, Helion has really managed to put my concerns to shame. This place has succeeded in building a workplace that can accommodate a combination of a busy family life and work life without me having to feel guilty when the first has to be prioritized over the second.
Pernille, Senior Inbound Strategist
"
As a student assistant, I get to define my own role and future work, meaning I have the freedom to pursue my own interests. The flat structure, flexible working hours and location, as well as the social atmosphere at the office, make Helion B2B the perfect company for me to be with during my studies, and to get the best start for my career afterward.
Noah, Student Worker
What we offer
We're committed to providing a work-life balance that allows you to excel both in your professional and personal life. Enjoy a flexible schedule and work from home whenever needed.
The basics
Five weeks of vacation and 5 extra holiday entitlements

Competitive salary

Health insurance, pension, parental leave

Your work gear
The fun
Annual off-site trip

Summer and winter parties

Friday bubbles to celebrate our wins
Your workplace
A modern office in central Copenhagen or Aarhus

Healthy and delicious lunch

Affordable massage

A gym for those extra endorphins
Meet the team
Since 2021, we've tripled in size, bringing knowledgeable
inbound strategists, content creators, and performance
marketers on board. Say hello:
Who works at Helion B2B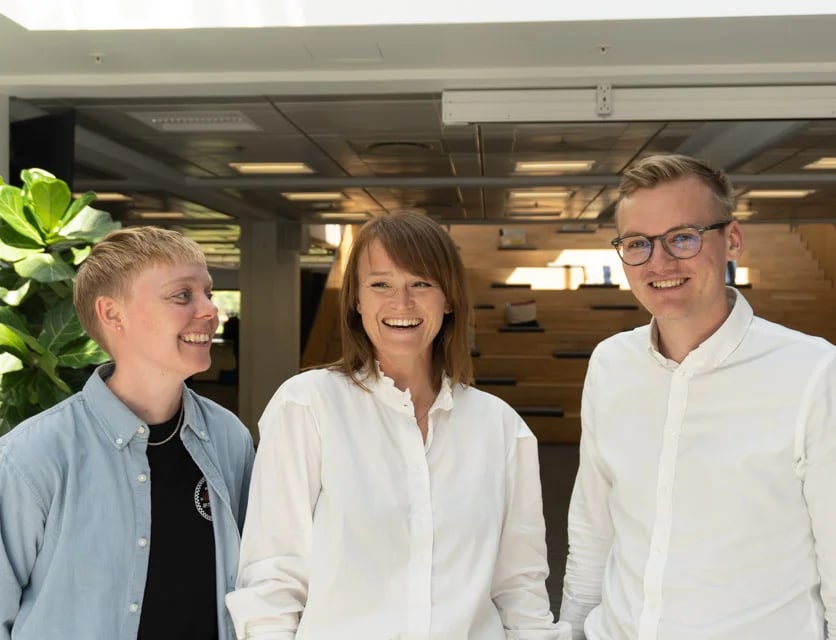 Join us today
Join Helion B2B if you're looking for a workplace culture that values your growth, input, and happiness. Check out our open positions to find your dream match:
As the Creative Content Lead at Helion B2B, you'll lead a recently founded team of creatives at an agency that is among the very best at what we do: Strategy and consulting within Inbound Sales & Marketing.
See open position
As an Inbound Strategist in Helion B2B, you will be the point of contact for your own portfolio of 3-4 clients. You will be responsible for project management, ensuring progress, and quality assurance of deliverables.
See open position
As a Paid Search Specialist at Helion B2B, you'll join a recently founded team of specialists aiming to reach and capture high-quality leads through search and social for our B2B customers.
See open position